Elisabeth Elliot is one of my heroes of the faith! Not only did she minister alongside her husband, Jim Elliot, to the Auca Indians, but she continued to minister to them even after they killed him. She has written several books on the topic and on Jim's life. She also has written several books on men and women and their relationships. This was one of those books :)!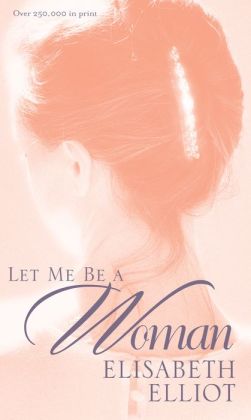 Mrs. Elliot wrote this book to her daughter who was getting ready to be married. It reads more like a letter then a book and contains pages of motherly advice and wisdom. She starts out by contrasting the differences between men and women. Grounded in Scripture, she points out that a woman cannot find true joy unless she is a woman. In today's society, thanks to the radical growth of the feminist movement, it has become hard to discern what our role is as women. Only when we turn to the Bible can we attain a proper perspective on who we should be as women. Mrs. Elliot points out that woman was made for man. Now in today's culture that is almost instantaneously attacked. But that's because our culture is no longer looking at things through a Biblical perspective. In Genesis 2 it clearly states that woman was made to be man's helpmeet. That's why it is a beautiful thing when two people, a man and a woman, choose to join their lives together and become one flesh. But marriage is not the end of the story. Mrs. Elliot covers the realities of married life. In other words its not always going to be easy. But if two people, under the authority of Jesus Christ, are willing to live out the roles assigned to them by God, it can be a beautiful thing!
Mrs. Elliot covers the four things you will receive when you marry a man:
~ A Sinner
~ A Man
~ A Husband
~ A Person
She also covers the topics of submission, obedience, humility, what makes marriage work, love (in both the physical and spiritual), and so much more!
I highly recommend this book for anyone preparing for, looking forward to, or getting ready for marriage!
Ages 16 and up or as directed by your parents :)
Learning to delight in Jesus,
Hannah :)